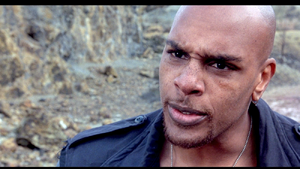 Mjr. Jackson Briggs (a.k.a. Jax)
is the
real protagonist
of the
1997
film,
Mortal Kombat: Annihilation
. He is played by Lynn Williams of
American Gladiators
.
Half of his lines are logical questions, and the other half are borderline racist
Is a complete and utter stereotype
As far as real protagonists go, he's one of the weakest examples, but his consistent logic throughout this completely nonsensical movie earned him the title
Can rip off metal that has been cybernetically fused to his arms with no damage done to himself
Can't beat a centaur with the aforementioned cybernetic implants, but can with his normal flesh-and-blood arms
By the way, the "cybernetic implants" were plastic
In other news, costuming wasn't this film's strong suit, either
Ad blocker interference detected!
Wikia is a free-to-use site that makes money from advertising. We have a modified experience for viewers using ad blockers

Wikia is not accessible if you've made further modifications. Remove the custom ad blocker rule(s) and the page will load as expected.