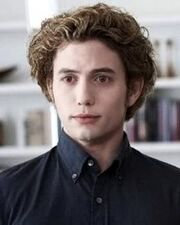 Jasper Hale (a.k.a. Jasper Cullen) is a protagonist? in the 2008 film, Twilight, as well as its four sequels, New Moon, Eclipse, and Breaking Dawn I & II. He is played by Jackson Rathbone.
Manages to show even less emotion than he did when he played Sokka in The Last Airbender
Desperately wants to be Harpo Marx
Does absolutely nothing in the first movie
Does try to eat Bella in the second movie (due to her paper-cutting herself), so that's an improvement
This is confusing, though, since he was in the presence of much more of Bella's blood in the first movie and he didn't even bat an eye at that point
Also, he's been a vampire for like 150 years and he still can't control himself?
Can apparently control a person's mood
Actually kinda cool in the third one, despite not being able to keep a Texan accent
Was apparently turned in post Civil War America, and fought for the South
Ad blocker interference detected!
Wikia is a free-to-use site that makes money from advertising. We have a modified experience for viewers using ad blockers

Wikia is not accessible if you've made further modifications. Remove the custom ad blocker rule(s) and the page will load as expected.