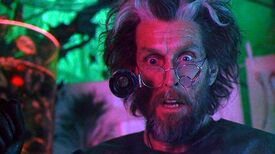 Dr. Jason Woodrue
is a minor villain in the
1997
film,
Batman and Robin
. He is played by John Glover.
Creates "Bane" and therefore is one of the biggest douchebags in the Tiradesverse
Thinks the best way to kill someone who threatens him is to push that person over a table while flamboyantly screaming at the top of his lungs
In hindsight, is kind of a perfect role for John Glover
Ad blocker interference detected!
Wikia is a free-to-use site that makes money from advertising. We have a modified experience for viewers using ad blockers

Wikia is not accessible if you've made further modifications. Remove the custom ad blocker rule(s) and the page will load as expected.