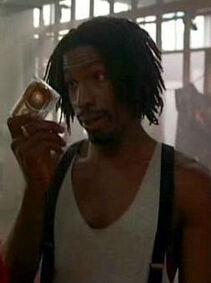 James Smith
is a character in the
1995
film,
Showgirls
. He is played by Glenn Plummer.
Is a Courtney
Offers the following bit of wisdom to Nomi: "Everybody got AIDS and shit!"
However, he does have the only line in the movie that makes any sense at all: "We ain't got no ties!" (also said to Nomi)
Is in every other scene in the movie, and then just disappears never to be seen again a little over midway through it
Is a main character in the sequel, Showgirls II: Penny's From Heaven
Rumored to have a hand in the Psychlo invasion
Ad blocker interference detected!
Wikia is a free-to-use site that makes money from advertising. We have a modified experience for viewers using ad blockers

Wikia is not accessible if you've made further modifications. Remove the custom ad blocker rule(s) and the page will load as expected.