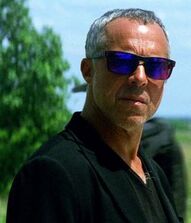 James Savoy is the quaternary antagonist in the 2014 Michael Bay film, Transformers: Age of Extinction. He is played by Titus Welliver.
Leads a CIA black ops team that hunts down Transformers
Holds a gun to the head of a 17-year-old girl despite saying earlier that he had a sister die in the Battle of Chicago
Being a human in the Transformers series, is a complete fucking asshole
Heals from having his eye gouged out by Cade Yeager in a matter of moments
Is then thrown off a building
Ad blocker interference detected!
Wikia is a free-to-use site that makes money from advertising. We have a modified experience for viewers using ad blockers

Wikia is not accessible if you've made further modifications. Remove the custom ad blocker rule(s) and the page will load as expected.