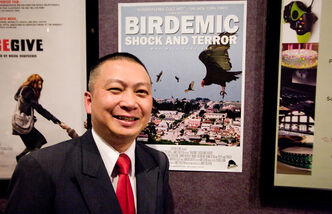 James Nguyen
is the writer/director of
Birdemic
and its sequel,
Birdemic II: The Resurrection 3D
.
Probably funded Birdemic with Best Buy gift cards
Has no formal training and thus uses shooting and editing techniques last seen in 90s full motion video games.
Is probably in love with Al Gore
Ad blocker interference detected!
Wikia is a free-to-use site that makes money from advertising. We have a modified experience for viewers using ad blockers

Wikia is not accessible if you've made further modifications. Remove the custom ad blocker rule(s) and the page will load as expected.