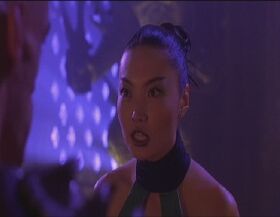 Jade is a villain in the 1997 film, Mortal Kombat: Annihilation.  She is played by Irina Pantaeva.
Tries to seduce Liu Kang.......  we think...
Apparently has reality-warping abilities
Accompanies Kang across an untold number of miles of desert and into Outworld
Leads him to Shao Kahn's hideously animated CGI fortress, where he is attacked by Baraka
Which leads us to wonder repeatedly why she didn't just fucking kill him back in the desert when she had ample opportunities to do so
Pulls off the most idiotic and poorly timed heel turn ever seen
Is fed to a pitifully animated CG creature by Shao Kahn
Unlike Kahn's previous killing of a minion, both hosts were wholeheartedly in favor of this one
Ad blocker interference detected!
Wikia is a free-to-use site that makes money from advertising. We have a modified experience for viewers using ad blockers

Wikia is not accessible if you've made further modifications. Remove the custom ad blocker rule(s) and the page will load as expected.