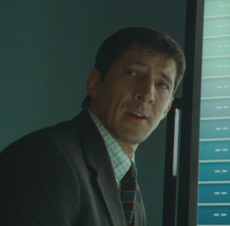 Dr. Ivan Slavicky
is a minor character in the
2004
film,
Catwoman
. He is played by Peter Wingfield.
Gains a conscience out of nowhere and does not want to sell the evil makeup with its evil side effects
Is killed, but his body is just left in Evil Beautycorp's lab
Looks like the illegitimate lovechild of Ralph Fiennes and Paul Bettany
Ad blocker interference detected!
Wikia is a free-to-use site that makes money from advertising. We have a modified experience for viewers using ad blockers

Wikia is not accessible if you've made further modifications. Remove the custom ad blocker rule(s) and the page will load as expected.