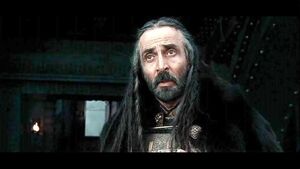 Uncle Iroh
is a character in the
2010
M. Night Shyamalan
film,
The Last Airbender
. He is played by Shaun Toub.
Like every other character in this movie, is played by a block of wood, in this case a piece of silver maple, and his name is mispronounced
Also like every other character, is a walking pile of exposition
Is of Iranian descent and is uncle to a character who looks to be of Indian descent
Is supposed to be playing a character who is a total hedonist (albeit a very good-natured one), but does virtually nothing that could be classified as hedonistic
Randomly is able to create fire out of nowhere despite all the firebenders in the movie being unable to do this
Creates said fire in a fit of extreme rage after he failed to stop Commander Zhao from killing the Ocean Spirit, despite having numerous opportunities to do so
Does nothing else
Ad blocker interference detected!
Wikia is a free-to-use site that makes money from advertising. We have a modified experience for viewers using ad blockers

Wikia is not accessible if you've made further modifications. Remove the custom ad blocker rule(s) and the page will load as expected.