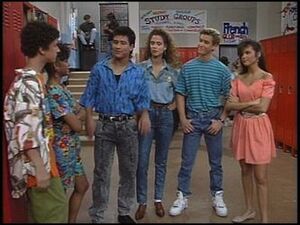 High School High
is the term given to any generic, cliched high school in a
Tiradesverse
movie. Whether or not the high school's actual name is given is completely irrelevant, as any high school deemed worthy of falling under the umbrella of this trope will do literally nothing to distinguish itself from any other high school you can find anywhere. You will commonly see
Guy Banter
-style bullies, nerdy shrimpy kids, teachers who are completely oblivious to what is going on in their classrooms, and jocks wearing letterman's jackets, as well as dozens of other prototypical, banal characters and settings in such schools.
The curriculum at any High School High is laughable at best. Often the courses feature such "advanced" topics as Solar Eclipses and Show-and-tell. Classes only occur when the plot calls for it and only when it clumsily pushes the plot forward. Obviously, the entire school is subsidized by the Exposition Network. If the students graduate, they eventually end up at College University.
This is essentially the New Santroitcagobergville trope of high school settings.
Examples in the Tiradesverse
Edit
Ad blocker interference detected!
Wikia is a free-to-use site that makes money from advertising. We have a modified experience for viewers using ad blockers

Wikia is not accessible if you've made further modifications. Remove the custom ad blocker rule(s) and the page will load as expected.