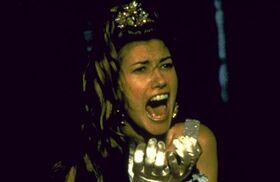 Heather is a protagonist? in the 1994 film, Texas Chainsaw Massacre: The Next Generation. She is played by Lisa Marie Newmyer.
Is clearly in a heated contest with Barry to see who can be the most annoying character in the movie
It ends in a draw
Thinks it would be really cool to be killed in a horrific car crash
Is also fascinated to an absurd degree with the possibility of being murdered by a serial killer, but when she is actually chased around and captured by serial killers, she is scared out of her gourd
Is apparently the goddamned Highlander considering that she gets thrown into a freezer; impaled in the back by, and hanged on, a meat-hook; and has part of her face chewed off by Vilmer...but doesn't actually die until he steps on her head and crushes it
The very rare case of a female Guy Banter
Ad blocker interference detected!
Wikia is a free-to-use site that makes money from advertising. We have a modified experience for viewers using ad blockers

Wikia is not accessible if you've made further modifications. Remove the custom ad blocker rule(s) and the page will load as expected.