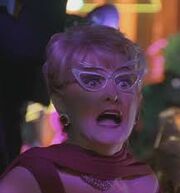 Gossip Gerty is a character in 1995 film, Batman Forever and in the 1997 film, Batman and Robin. She is played by Elizabeth Sanders, the wife of Batman "creator", Bob Kane.
Only exists to dump exposition and establish scenes
Worse than recurring James Bond "comedy" relief, J.W. Pepper
Fully acknowledges the uselessness of the Gotham City Police in saying that Batman and Robin protect the city in front of a cop
Overacts in every scene
One of Gotham City's biggest celebrities. That is all fucktons of sad there.
Her job as a gossip reporter has her reporting at a planetarium
Also may or may not have appeared in Batman Returns
Her very name causes friend of the show, Ian Wilson, to break out in hives
Ad blocker interference detected!
Wikia is a free-to-use site that makes money from advertising. We have a modified experience for viewers using ad blockers

Wikia is not accessible if you've made further modifications. Remove the custom ad blocker rule(s) and the page will load as expected.