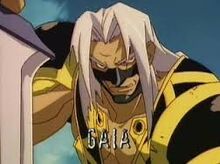 Gaia is a character in the 1997 Battle Arena Toshinden OVA anime. He is voiced by Alfred DeButler in the English version.
Though built up as a badass hoss character in the beginning of the anime (a flashback), he turns into a helpless emo kid for the majority of the rest of the movie
Former head of "The Organization"
Gets his ass kicked repeatedly by Chaos
Not exactly father of the year (See: Ellis)
Ad blocker interference detected!
Wikia is a free-to-use site that makes money from advertising. We have a modified experience for viewers using ad blockers

Wikia is not accessible if you've made further modifications. Remove the custom ad blocker rule(s) and the page will load as expected.