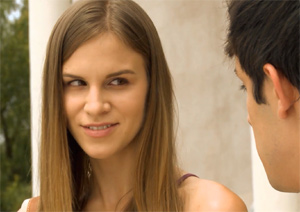 Frannie is a character in the 2013 David DeCoteau film, A Talking Cat!?!. She is played by Alison Sieke.
The most forgettable and useless character in a movie comprised of nothing but forgettable and useless characters
Speaks exclusively in innuendos
Desperately wants Chris' cock and his swimming pool
Doesn't read...........................books
Needs help.......................................................................from Chris
Is never actually talked to by Duffy the Cat
Despite this, in one of the most confusing parts of the entire movie, she actually reacts to his inner thoughts (i.e., the dubbed-in voiceover) that SHE CAN'T HEAR BECAUSE HE WASN'T TALKING
Is apparently friends with Tina, even though they were never even on screen together until mere minutes before the movie ends
Even though in real life she's quite attractive--dare I say, downright GORGEOUS--this movie did her face absolutely zero favors
Ad blocker interference detected!
Wikia is a free-to-use site that makes money from advertising. We have a modified experience for viewers using ad blockers

Wikia is not accessible if you've made further modifications. Remove the custom ad blocker rule(s) and the page will load as expected.