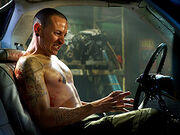 Evan
is a character in the 
2010
film, 
Saw 3D
. He is played by Chester Bennington of Linkin Park.
Is a skinhead
Though another random Jigsaw tape says he is trapped because of his racism, the truth is Jigsaw bought A Thousand Suns and hated it
Glued to the seat of the car with Bonesaw-brand glue
He tried so hard and got so far, but in the end, it didn't even matter
Because he dies, you see
Ad blocker interference detected!
Wikia is a free-to-use site that makes money from advertising. We have a modified experience for viewers using ad blockers

Wikia is not accessible if you've made further modifications. Remove the custom ad blocker rule(s) and the page will load as expected.