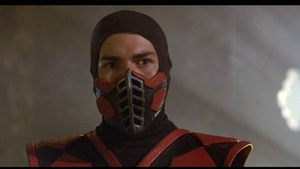 Ermac
is a character in the
1997
film,
Mortal Kombat: Annihilation
.  He is played by John Medlen.
Is one of Shao Khan's dozens of generals
Does absolutely nothing from the point where Rain is killed until the opening of the final battle
Fights Sonya Blade in the final battle because they needed someone for her to fight and there was literally no one else
No, seriously, she even says, "Leftovers are fine with me" right before engaging him in battle
Noob Saibot spawns from him
Has like two lines the entire movie
Ad blocker interference detected!
Wikia is a free-to-use site that makes money from advertising. We have a modified experience for viewers using ad blockers

Wikia is not accessible if you've made further modifications. Remove the custom ad blocker rule(s) and the page will load as expected.