Ballistic: Ecks vs. Sever is a 2002 action film starring Antonio Banderas and Lucy Liu.
It is notable for having more gunfights than coherent lines of dialogue.
A drunken Spanish man fights a stoic Asian woman in search of his Italian/Puerto Rican wife and their Caucasian son.
And literally everything explodes.
Notable Characters
Edit
The Episode
Edit
James - Cliched
Damien - Auto-fellatio
Mike - (the sounds of Mike pissing)
Highlights
Edit
References
Edit
Due to Mike being drunk for the majority of the show, this episode features over twice as many references and non-sequiturs than the typical show to this point.
Ending Song
Edit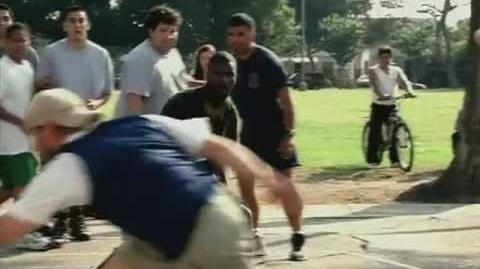 Before and After
Edit
Previous Episode - Episode 3 - Street Fighter: The Legend of Chun-Li
Next Episode - Episode 5 - The April Fools Joke
Ad blocker interference detected!
Wikia is a free-to-use site that makes money from advertising. We have a modified experience for viewers using ad blockers

Wikia is not accessible if you've made further modifications. Remove the custom ad blocker rule(s) and the page will load as expected.