Samurai Cop is a 1991 action film starring Matt Hannon and Robert Z'dar.
A legend in the annals of B-movies, it is known for its incomprehensible "plot", Z-grade acting, complete lack of retakes (even after flubbed lines) and establishing shots, and several arbitrary sex scenes.
Amazingly, 24 years later, a sequel starring none other than Tommy Wiseau came out. And no, that is not a joke.
Seriously. We even covered it.
A cop (allegedly) trained in the ways of the samurai tries to stop the most inept gang ever by either killing or fucking everything in his line of sight. You know, just like a samurai or a cop would do.
Notable characters
Edit
The Episode
Edit
James - Syphilis
Damien - Virtue (due to an editing error, Damien's final word segment was actually left off of the finished episode)
Highlights
Edit
The TMNT Tournament Fighters tangent
The Carnevil tangent
The hosts declare Joe Marshall Guy Banter 1A
References
Edit
Spider-Man 3
Out For Justice
Sunset Strip
Stephen Segal
Eddie Guerrero
Al Capone
Streets of Rage
William Shakespeare
Bonnie Tyler
Time Crisis
Lethal Enforcers
Uncharted
Jesse Ventura
Fabio
Danielle Steele
Gerald Brisco
Mr. Perfect
Sid Justice
Dolph Ziggler
Jim Lawsons
Joe Piscapo
Tone Loc
Morgan Fairchild
Jonathon Frakes
Star Trek: The Next Generation
Jeff Gerstmann
The Animaniacs
Beevis and Butthead
The Legend of Zelda
Final Fantasy 7
The Kool-Aid Man
Lethal Weapon
Mortal Kombat 2
Mortal Kombat
Donna's
The Muffs
The Distillers
Power Corps
Lionel Hutz
Encyclopedia Dramatica
Uncyclopedia
Orson Wells
Vanilla Ice
Taper's Medical Dictionary
Home Alone
Batman
Mother Love Bone
Beverly Hills Cop
Wheezer
Dazzler
The Whispers (band)
Who Framed Roger Rabbit
The Twilight Zone
The Sims
Zoo Tycoon
Samurai Showdown
Journey (band)
The Marx Brothers
Primus
Sepultra
Battle Arena Toshinden
Battle Arena Toshinden 3
Ninja Turtles Tournament Fighters
Star Wars: Masters of Teris Kase
Time Crisis
REM
Barry White
Lionel Richie
Sigma Pi
Carnevil
Ace Ventura 2
Madden
Mad Dog McCree
Ground Zero Texas
Aerosmith
Revolution X
Cards Against Humanity
Super Robot Wars
Scientifically Accurate Duck Tales
Repo! The Genetic Opera
Postal
Darren Bowsman
Sarah Brightman
Bill Moseley
Paris Hilton
Nick Fury: Agent of Shield
David Hasselhoff
Maniac Cop
Ending song
Edit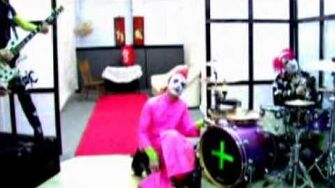 Before and After
Edit
Previous Episode: Episode 46 - Howard the Duck
Next episode: Episode 48 - Bloodrayne 2: Deliverance
Ad blocker interference detected!
Wikia is a free-to-use site that makes money from advertising. We have a modified experience for viewers using ad blockers

Wikia is not accessible if you've made further modifications. Remove the custom ad blocker rule(s) and the page will load as expected.