Highlander II: The Quickening is a 1991 sci-fi/action film, considered by many to be the worst movie sequel ever made, and is almost universally included in "Worst Movies Ever" lists. (In reality, Highlander: The Source is actually far worse.)
It is the first film covered by the hosts whose cast list is comprised entirely of actors collecting Ben Kingsley Paychecks.
The hero of the first Highlander film effectively turns Earth into a dystopian wasteland while "remembering" that he is actually an alien.
Notable Characters
Edit
The Episode
Edit
This episode marked the return of the podcast after a 9-month hiatus
It marked the first reference to Guy Banter
The episode was unfortunately marred by random connection problems on James' end, which caused several of his comments to be cut off randomly. This was corrected before the subsequent episode.
James - Nickelback
Damien - Boondoggle
Highlights
Edit
"Can I get a light" guy
Frisbee Baby!
The hosts imitating radio DJs in the opening
References
Edit
Michael McDonald
Michael Bolton
Neil Young
Sade
Highlander
Wilford Brimley
Highlander: The Series
Superman: The Animated Series
Shade
Green Lantern
Married with Children
Edward Scissorhands
The Tick
Sega Dreamcast
Clue
Dragon Ball Z
Quad City DJs
Cabbage Patch Kids
Poison
Space Jam
Super Nintendo
Tetris Attack
Lord of the Rings
Edge (wrestler)
Marilyn Monroe
Candyman
Zach Morris
Elton John
Resident Evil: Extinction
The Scorpion King
Randy Couter
Highlander 3
Family Feud
Roxanne Hart
Dave Grohl
James Bond
Final Fantasy: The Spirits Within
Season of the Witch
The Matrix: Revolutions
The Matrix: Reloaded
Avatar: The Last Airbender
Linkin Park
Bloodrayne 3
In the Name of the King 2
Ending Song
Edit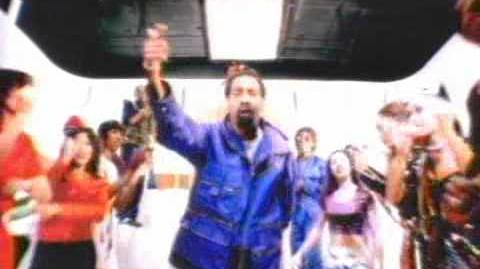 Before and After
Edit
Previous Episode - Episode 17 - The Fifth Anniversary Show
Next Episode - Episode 19 - Alone in the Dark
Ad blocker interference detected!
Wikia is a free-to-use site that makes money from advertising. We have a modified experience for viewers using ad blockers

Wikia is not accessible if you've made further modifications. Remove the custom ad blocker rule(s) and the page will load as expected.