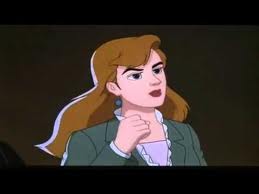 Lady Elizabeth of Camden is a protagonist? in the 1999 film, The Legend of the Titanic.  She is voiced by Jane Alexander in the English version.
Is about as bland and cookie-cutter a character as we'll ever see in the Tiradesverse
Is quite literally a moonchild
Has absolutely no intention of marrying the guy from Harvey Birdman, Attorney at Law
Falls in love with a guy before even saying one sentence to him
After her death, she might have gone on to be resurrected as Bella Swan
Tells Tentacles it isn't his fault that the boat sank, but rather, that it was because of an evil, greedy human being
This, despite the fact that Tentacles is, in fact, the direct cause of the sinking of the ship in this piece of shit movie
Is rather nonplussed about dozens of animals talking to her
Probably did an oil drum's worth of opium before getting on the ship
Ad blocker interference detected!
Wikia is a free-to-use site that makes money from advertising. We have a modified experience for viewers using ad blockers

Wikia is not accessible if you've made further modifications. Remove the custom ad blocker rule(s) and the page will load as expected.