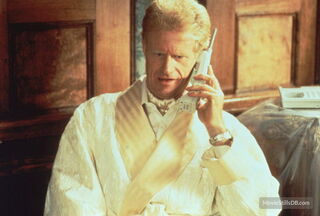 Ebner Frost is the main villain in the 1996 film, Santa with Muscles. He is played by Ed Begley, Jr.
Apparently, has a well known criminal empire and gang, but no one has arrested him yet
Is terrified of germs
Wants to destroy an orphanage to get magical electrified quartz crystals in a cavern below the orphanage
Why he would need such things or how he would utilize them is never explained
Has a horrible swordfight with Hulk Hogan in the Dark Souls cave with elongated combustible crystals
Ad blocker interference detected!
Wikia is a free-to-use site that makes money from advertising. We have a modified experience for viewers using ad blockers

Wikia is not accessible if you've made further modifications. Remove the custom ad blocker rule(s) and the page will load as expected.