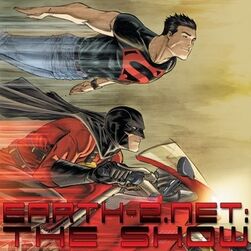 Earth-2.net: The Show
is the flagship podcast of 
Earth-2.net
.  It is the podcast where the first audio
Tranquil Tirades
segment, the
Murder-Set-Pieces
review (retroactively referred to as
Episode 0.1
), was heard on Episode #407. The full
Tranquil Tirades
podcast spun off of E2TS after a
second audio segment
on Episode #421.
Besides in the aforementioned audio Tirades segments, both James and Damien have made frequent guest appearances on Earth-2.net: The Show over the last decade, covering various topics in the "geek culture" realm (most of the time with host and Earth-2.net owner/operator, Michael David Sims.)
Subjects the hosts have covered on E2TS with Michael Sims
Edit
Wonder Woman (the awesome DCU animated movie)
Avengers VS. X-Men (James and Mike)
Not counting the 1940s serials and Catwoman (technically a Batman film), all 8 live action Batman films (James and Mike with Ian Wilson)
The iconic Superman: The Movie (James and Mike with Ian Wilson)
Ad blocker interference detected!
Wikia is a free-to-use site that makes money from advertising. We have a modified experience for viewers using ad blockers

Wikia is not accessible if you've made further modifications. Remove the custom ad blocker rule(s) and the page will load as expected.