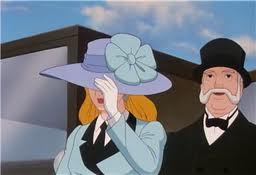 The Duke of Camden is a protagonist? in the 1999 film, The Legend of the Titanic.  He is voiced by someone who was gargling marbles during production.
Every word he utters this entire movie sounds like someone purposely trying to do a bad English accent while chewing on a dish sponge
Owns the rights to most, if not all, of the worldwide whaling channels and ships
How a British nobleman in the early 20th century would have such autonomous control over an entire worldwide industry is anyone's guess...
Wants what is best for his daughter, which to him apparently means forcing her to marry someone she vocally despises
It's cool, though, because when she argues with him a second time midway through the movie, he just forgets about the arranged marriage and says she's free to marry a gypsy guy he's never even met
Gets held at gunpoint by Jeffreys
Probably friends with Uncle Pennybags from Monopoly
Ad blocker interference detected!
Wikia is a free-to-use site that makes money from advertising. We have a modified experience for viewers using ad blockers

Wikia is not accessible if you've made further modifications. Remove the custom ad blocker rule(s) and the page will load as expected.