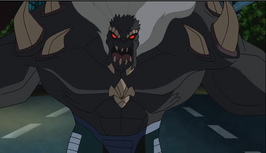 Doomsday is a villain/plot device in the 2007 animated film, Superman: Doomsday.
Like in the original "Death of Superman" storyline, is just there for plot advancement
Gets killed by Superman less than 20 minutes into the movie, which is also pretty much on par with the original "Death of Superman" story arc
And no, that is not a good thing
Ad blocker interference detected!
Wikia is a free-to-use site that makes money from advertising. We have a modified experience for viewers using ad blockers

Wikia is not accessible if you've made further modifications. Remove the custom ad blocker rule(s) and the page will load as expected.