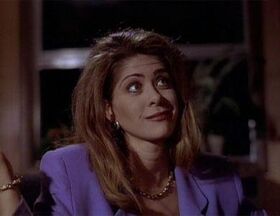 Darla Slaughter is an antagonist in the 1994 film, Texas Chainsaw Massacre: The Next Generation. She is played by Tonie Perenski.
The chick you get when you can't get Chasey Lain
Is convinced that her husband is an alien and that he and/or the Illuminati put a chip in her head that they could use to kill her at any moment they choose
Is either fucknuts insane, an idiot, or bipolar--possibly all three
Ad blocker interference detected!
Wikia is a free-to-use site that makes money from advertising. We have a modified experience for viewers using ad blockers

Wikia is not accessible if you've made further modifications. Remove the custom ad blocker rule(s) and the page will load as expected.