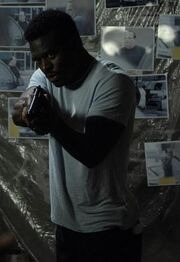 Daniel Rigg
is a character in the
Saw
movie series. He appears in
Saw II
, Saw III
, and
Saw IV
, and is seen in a memorial picture in
Saw V
. He is played by Lyriq Bent.
Is quite possibly the worst choice of a Jigsaw victim ever. His sin? He tries to save too many people.
Also was put into the Jigsaw game because his wife was pissy
Is the only other person in Saw IV besides Jigsaw to have a distinguishable character
Seriously, he was a cop and he tried to save people, and that is a punishable act. Why do people like these stupid fucking movies???
Was given real protagonist consideration
Ad blocker interference detected!
Wikia is a free-to-use site that makes money from advertising. We have a modified experience for viewers using ad blockers

Wikia is not accessible if you've made further modifications. Remove the custom ad blocker rule(s) and the page will load as expected.