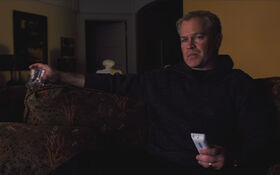 Daniel Fleming is a character in the 2007 film, I Know Who Killed Me.  He is played by Neal McDonough.
Husband of Susan Fleming and fake father to Aubrey Fleming
You see, he made a deal with a crack addict at the hospital where his real daughter was born (and died shortly after) where he would take one of the addict's newborn twin daughters and pretend that the one he took was his real daughter so Susan's heart wouldn't be broken; meanwhile, he would continually send her hush money every week to keep her away
The hush money was like $11
Somehow this absurd scheme worked
So, not only did not a single fucking person who worked at the hospital tell Susan that her newborn daughter died in the incubator, but no one seemed to notice that the couple whose newborn died in their hospital left the place with a child anyway
ARE YOU FUCKING KIDDING ME???
Killed by Bluefinger off screen...somehow
We assume "Daniel Fleming" is just an alias he uses as Bison while leading a double-life
Ad blocker interference detected!
Wikia is a free-to-use site that makes money from advertising. We have a modified experience for viewers using ad blockers

Wikia is not accessible if you've made further modifications. Remove the custom ad blocker rule(s) and the page will load as expected.