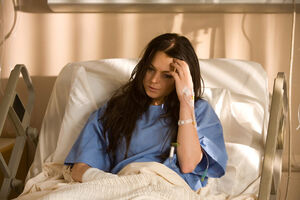 Dakota Moss is a co-main-protagonist? in the 2007 film, I Know Who Killed Me.  She is played by Lindsay Lohan.
Twin sister of Aubrey Fleming
Is the real main character of the movie, but she isn't introduced until over 25 minutes in
Is a stripper that never gets naked
Doesn't cooperate with the useless FBI characters, even though she has assumedly been hacked and maimed by the serial killer they are trying to capture
A DNA identification confuses her with Aubrey, indicating that they are identical twins even though they are actually fraternal twins.  A comparison of fingerprints would have been better (and simpler and cheaper) since even identical twins have different fingerprints.
Name-drops the title of the movie, even though it makes literally zero sense
Fights and kills Bluefinger with help from her super-robo-grip prosthetic arm/hand
Ad blocker interference detected!
Wikia is a free-to-use site that makes money from advertising. We have a modified experience for viewers using ad blockers

Wikia is not accessible if you've made further modifications. Remove the custom ad blocker rule(s) and the page will load as expected.