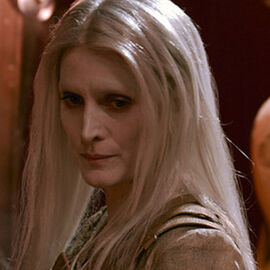 Claudia Wolf
 is the main villain in the
2012
 film,
Silent Hill Revelation: 3D
. She is played by Carrie-Anne Moss, who is collecting a
Ben Kingsley Paycheck
.
A complete bastardization of one of the most tragic villains in all of gaming
Leader of a cult that had all of its members destroyed in the previous film
Can turn into a crazy blade monster for some reason, which makes her want to kill Heather, which is the complete opposite of her plans
Despite saying that she can't leave Silent Hill, is somehow able to appear in the mall as the blade monster and attack Heather
This raises the question of why even send her son to do anything when she can apparently just show up wherever she wants
Punishes Vincent for doing exactly what was asked of him
Locks up her father, but doesn't take his half of the Seal of Metatron for some reason
Looks like Casper the Friendly Ghost and Vigo
Is in a grand total of two scenes in the movie
Ad blocker interference detected!
Wikia is a free-to-use site that makes money from advertising. We have a modified experience for viewers using ad blockers

Wikia is not accessible if you've made further modifications. Remove the custom ad blocker rule(s) and the page will load as expected.