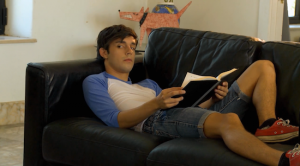 Chris Barber a character in the 2013 David DeCoteau film, A Talking Cat!?!.  He is played by Justin Cone.
Totally isn't gay
Wears skinny jorts rolled up at least four inches above his knees
Gets hit on by some chick named Frannie in every single scene in which they're together, but still can't figure out if she's into him
Finds the concept of a talking cat to be totally normal and not bizarre in any manner
Has an extremely homoerotic pool scene with Trent
Along with his father, he "catalogues" and "scans" all of his hideous clothing...with a book light
Somehow, this magic book light picks out outfits for them to wear
Ad blocker interference detected!
Wikia is a free-to-use site that makes money from advertising. We have a modified experience for viewers using ad blockers

Wikia is not accessible if you've made further modifications. Remove the custom ad blocker rule(s) and the page will load as expected.