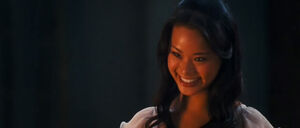 Chi-Chi is a protagonist? in the 2009 film, Dragonball Evolution. She is played by Jamie Chung.
Serves absolutely no purpose in this movie other than to give Goku a boner that fuels his ki blasts every time they're together on screen
No, seriously, anytime she is near him, his ki blasts become insanely powerful
Says: "You're different.......... I like different." to Goku
Yes, it was said with exactly as much emotion and acting ability as you'd expect
It's also bullshit, because she dates Carey Fuller, the popular jock bully
Knows about ki, which begs the question as to how martial arts aren't the most popular sport in this planet
Is in a fighting tournament because the script says so
This tournament, by the way, is given roughly 23 seconds of time on screen and is literally only there to show Mai scatching her to steal her blood
Her breasts seem to become larger and more prominently showcased every subsequent scene in which she appears
We're totally okay with that, by the way
Gets into a Mirror Match with Mai, who has shapeshifted into her thanks to one drop of her blood
Gets kicked in the face by Goku--who, by the way, has superhuman strength--during this fight, but the next (re: last) time we see her, she doesn't have so much as a black eye
Hired by way of the Asian Actress Rolodex
Is not the celebration of food
Ad blocker interference detected!
Wikia is a free-to-use site that makes money from advertising. We have a modified experience for viewers using ad blockers

Wikia is not accessible if you've made further modifications. Remove the custom ad blocker rule(s) and the page will load as expected.