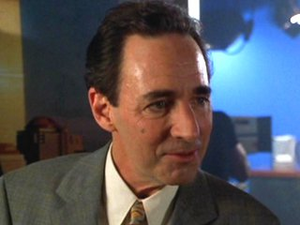 Charles Caiman is an antagonist in the 1998 Roland Emmerich film, Godzilla. He is played by Harry Shearer.
Also goes by Kent Brockman
Slimeball news anchor who works for the Exposition Network
Is the most prominent human antagonist in the movie
His last name is a reptilian creature, because, you know, that's humorous
Hits on Audrey Timmonds
In hindsight, by preventing Audrey from getting a news anchor position, he actually did the world a monumental favor
So, really, in an odd twist, he could be considered a real protagonist
Does nothing else, really
Ad blocker interference detected!
Wikia is a free-to-use site that makes money from advertising. We have a modified experience for viewers using ad blockers

Wikia is not accessible if you've made further modifications. Remove the custom ad blocker rule(s) and the page will load as expected.