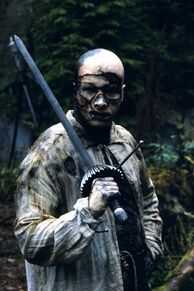 Castillo (a.k.a. Powder)
is the main villain in the 2003 Uwe Boll film, 
House of the Dead
. He is played by David Palffy.
Despite being the main villain of the movie, isn't actually fully introduced until ten minutes before the movie ends
Is a Spanish ghost pirate zombie thing
Wants to be immortal so he can live forever
Gets his head sliced off, but doesn't actually die until one of the useless protagonists? steps on it and causes the raspberry jelly to go everywhere
Is theorized that he may be the brother of The Guardian
Ad blocker interference detected!
Wikia is a free-to-use site that makes money from advertising. We have a modified experience for viewers using ad blockers

Wikia is not accessible if you've made further modifications. Remove the custom ad blocker rule(s) and the page will load as expected.