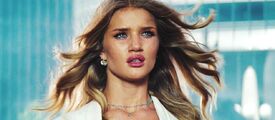 Carly Brooks-Spencer
is a character in the
2011
Michael Bay
film,
Transformers: Dark of the Moon
.  She is played by Rosie Huntington-Whiteley.
Replaced Mikaela as the love interest, but is somehow an even worse actress than Megan Fox
Not that surprising considering her only prior acting experience was a Victoria's Secret ad
Serves no other purpose in the movie except to model the latest fashions of 2011
We see her ass to open up the movie, as well as an upskirt shot later on
Calls Sam a "hero" to Charlotte Mearing, but then gets pissed at Sam later for wanting to help the Autobots with Agent Simmons
Calls Megatron a "bitch"
Ad blocker interference detected!
Wikia is a free-to-use site that makes money from advertising. We have a modified experience for viewers using ad blockers

Wikia is not accessible if you've made further modifications. Remove the custom ad blocker rule(s) and the page will load as expected.