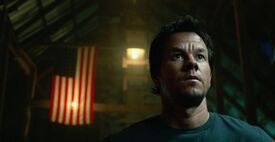 Cade Yeager is the main human protagonist? in the 2014 Michael Bay film, Transformers: Age of Extinction. He is played by Mark Wahlberg.
Is an all-American, everyman inventor, and a really shitty one at that
An even shittier and more useless father than he is an inventor, which is saying fucktons
Has to remind you every twenty minutes or so that he is an inventor
Is a colossal asshole who was lawfully evicted from his house and attacks a real estate agent with a baseball bat, steals power from his neighbors' houses, smothers his daughter on an absurd level, and refuses to accept the reality that he is dead broke and should get a real job
Wahlberg tries very early on to keep a Texan accent, but after about the 4-minute mark, he constantly slips out of it and ultimately stays in his native Bostonian accent
Finds the broken down and deactivated Optimus Prime in an old theatre in his hometown
How Optimus wound up there and how no one noticed he was there is never explained
Flat out says he "owns" his friend, Lucas Flannery
Might actually be Max Connor grown up
Has a major problem with 20-year-old Shane Dyson dating his daughter (and rightfully fucking so), but around the 2-hour mark of the movie, he completely changes his mind and likes the asshole, and tells him to take care of her if he dies
Calls Shane "Lucky Charms" throughout the whole movie, which is highly offensive to Irish people, but this is a Michael Bay movie, so you know what you're in for
Randomly finds a human-sized sword-gun (apparently with infinite ammo) in Lockdown's ship and uses it for the last third of the movie
Somehow has Joshua Joyce's personal cell phone number with no explanation as to how he got it
Appeals to Joyce to not give the The Seed to Galvatron because he is an inventor like him, which means he has a conscience
WHAT?!?!?!?!?!
Helps Optimus Prime destroy Lockdown
Ad blocker interference detected!
Wikia is a free-to-use site that makes money from advertising. We have a modified experience for viewers using ad blockers

Wikia is not accessible if you've made further modifications. Remove the custom ad blocker rule(s) and the page will load as expected.