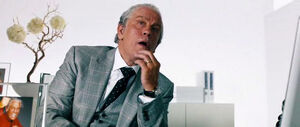 Bruce Brazos
is a character in the
2011
Michael Bay
film,
Transformers: Dark of the Moon
.  He is played by John Malkovich, who was collecting the most obvious
Ben Kingsley Paycheck
since the
original one
.
Was such an insanely big Ben Kingsley Paycheck that James and Damien briefly considered renaming the trope to the "John Malkovich Paycheck"
Apparently stole all of the orange spray-tan from every other cast member from every one of these movies and used it all on himself
Serves zero purpose in the movie
Has a very blase attitude towards someone falling out of a window to their death
Ad blocker interference detected!
Wikia is a free-to-use site that makes money from advertising. We have a modified experience for viewers using ad blockers

Wikia is not accessible if you've made further modifications. Remove the custom ad blocker rule(s) and the page will load as expected.