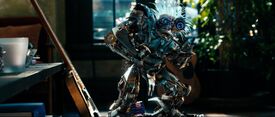 Brains is a minor protagonist? in the Michael Bay films Transformers: Dark of the Moon and Transformers: Age of Extinction. He is voiced by Reno Wilson.
Doesn't really do much in either movie he's in
In the third movie, is best friends with Wiffledick
In the fourth movie, he translates the Cybertronian language for KSI, and expositions about how they were able to create new giant robots
Seems to be perfectly alright with the resurrection of Megatron despite how many fellow Autobots got killed by him and his lieutenants
Ad blocker interference detected!
Wikia is a free-to-use site that makes money from advertising. We have a modified experience for viewers using ad blockers

Wikia is not accessible if you've made further modifications. Remove the custom ad blocker rule(s) and the page will load as expected.