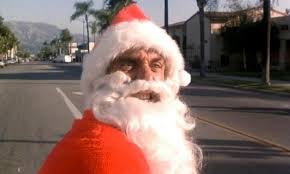 Blake Thorne is the main protagonist? and titular character of the 1996 film, Santa with Muscles. He is played by Hulk Hogan.
Said to be the richest man in a 10-state area, which, because he lives in California, basically means he is the richest man in the entire left half of the country
Built this gargantuan fortune on PROTEIN POWDERS
One of the most epic Guy Banters in the Tiradesverse
Hits his head on a Rubbermaid trash can and gets amnesia
Is convinced he is Santa Claus by Bob from That 70's Show
Can stop a speeding ice cream truck with nothing but his bodily strength
Because, you know, he eats his vitamins and says his prayers, brother
Has a swordfight that is even worse than the ones in House of the Dead and Bloodrayne, as he and Ed Begley, Jr. fight each other with electrified, combustible quartz crystals in a Fraggle Rock ripoff
Ad blocker interference detected!
Wikia is a free-to-use site that makes money from advertising. We have a modified experience for viewers using ad blockers

Wikia is not accessible if you've made further modifications. Remove the custom ad blocker rule(s) and the page will load as expected.