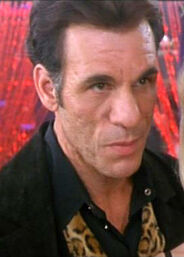 "Big" Al Torres
is a character in the
1995
film,
Showgirls
. He is played by Robert Davi.
Has arguably the best line of the movie: "It must be weird not havin' anybody cum on ya' anymore." - spoken to Nomi
Despite being a slimeball, he is actually one of the nicer people in the movie
Yes, that's right--a character played by ROBERT DAVI is one of the "better" people in Showgirls
Which really shows just how unlikable almost every character in this piece of shit movie is
Ad blocker interference detected!
Wikia is a free-to-use site that makes money from advertising. We have a modified experience for viewers using ad blockers

Wikia is not accessible if you've made further modifications. Remove the custom ad blocker rule(s) and the page will load as expected.