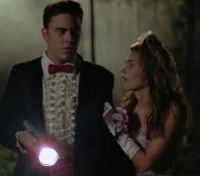 Barry is a protagonist? in the 1994 film, Texas Chainsaw Massacre: The Next Generation. He is played by Tyler Cone.
Was considered the biggest Guy Banter in the history of Guy Banters until Wankstain came along
While growing up, told all the girls in his neighborhood that they could get breast cancer if he didn't grope them
Claims that you can get cancer from not having sex
Calls Jenny "ugly", even though five minutes earlier, he was making out with some girl that looks like the rhythm guitarist of NOFX
Killed by the blunt side of an axe by Leatherface
Ad blocker interference detected!
Wikia is a free-to-use site that makes money from advertising. We have a modified experience for viewers using ad blockers

Wikia is not accessible if you've made further modifications. Remove the custom ad blocker rule(s) and the page will load as expected.