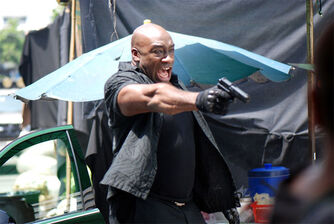 Balrog
is one of the main villains of the 2009 film, 
Street Fighter: The Legend of Chun-Li
. He is played by the late Michael Clarke Duncan.
Answers to "MCD"
Practitioner of the Cancer Punch
Is apparently Bison's chief negotiator of secret illegal deals, which makes about as much sense as making Groot and Rocket Raccoon your chief negotiators
Uses a goddamned rocket launcher in lieu of any street fighting
Ad blocker interference detected!
Wikia is a free-to-use site that makes money from advertising. We have a modified experience for viewers using ad blockers

Wikia is not accessible if you've made further modifications. Remove the custom ad blocker rule(s) and the page will load as expected.