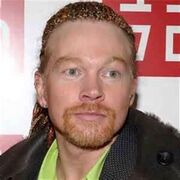 Axl Rose
is an American rock musician, best known as the frontman of Guns N' Roses and for being an all around piece of shit.
Has probably feuded with every human being in history
One of Jigsaw's earliest apprentices
Wrote "My World", which should pretty much cement him as one of the worst human beings on the face of the planet
Ad blocker interference detected!
Wikia is a free-to-use site that makes money from advertising. We have a modified experience for viewers using ad blockers

Wikia is not accessible if you've made further modifications. Remove the custom ad blocker rule(s) and the page will load as expected.