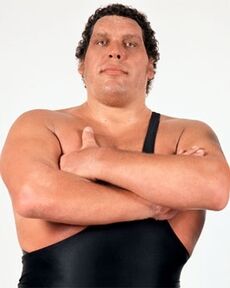 Andre the Giant
was a French professional wrestler and actor, best remembered in the film world for his role as Fezzik in
The Princess Bride
, alongside Cary Elwes.
During his wrestling career, he was known as The Eighth Wonder of the World.
In the afterlife, he is one of Jim Varney's warriors of light.
Has a posse
Wants to know if you want a peanut
Ad blocker interference detected!
Wikia is a free-to-use site that makes money from advertising. We have a modified experience for viewers using ad blockers

Wikia is not accessible if you've made further modifications. Remove the custom ad blocker rule(s) and the page will load as expected.