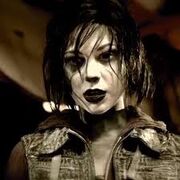 Alessa Gillespie
 is a character in the
2012
 film,
Silent Hill Revelation: 3D
.  She is played by Adelaide Clemens.
Is a walking plot hole
No, really, the sheer fact that she exists literally invalidates the entire movie and the one before it
Is trying to get revenge on a cult that she's already murdered every single member of
Angry at Heather for some reason and continually tells her not to go back to Silent Hill, a place she has no memory of
Merges back with Heather in a thrilling hug battle on a merry-go-round
Looks like the world's angriest Juggalo
Ad blocker interference detected!
Wikia is a free-to-use site that makes money from advertising. We have a modified experience for viewers using ad blockers

Wikia is not accessible if you've made further modifications. Remove the custom ad blocker rule(s) and the page will load as expected.